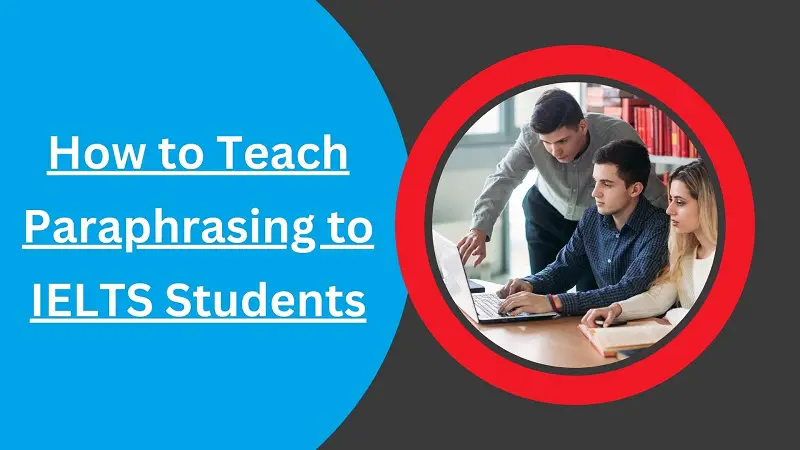 Paraphrasing is one of the most important techniques used in modern-day content writing. If you want to be an expert content writer or want to pass an academic writing test like IELTS, it is important that you learn how to paraphrase content the right way.
If you are wondering how to paraphrase the content in a professional manner, you must read this article.
In this brief guide, we have explained the top five methods following which you can learn how to rewrite content. You cannot only learn how to paraphrase the content, but you will also know how to teach paraphrasing to students!
Best Techniques That Can Help You Teach Students How To Paraphrase Content Effectively
Here are some of the most important techniques that can help you learn, as well as teach students how to paraphrase content with accuracy.
Enhance Their Vocabulary | Start Using Synonyms
The most important thing in paraphrasing is changing words with their synonyms. Here you must know that by using synonyms, you can create a new version of the same sentence without compromising the original intent/context.
Students who want to pass their IELTS test must enhance their vocabulary and learn how to change words with the most suitable synonyms.
You can find dozens of synonyms for a single word, but the key to effective paraphrasing is to only use the words that have the exact meaning as the original word/phrase.
Tell Them About Active & Passive Voice
In the IELTS writing test, one has to write discursive essays. These are essays in which you have to discuss various viewpoints and paraphrase them in your own words, style, and tone. Changing the voice of content is very important in content paraphrasing.
To change a sentence from active voice to passive voice, you have to identify the direct object and place it at the beginning of the sentence.
Along with this, you would also have to change the form of the verb. If you are teaching IELTS students how to paraphrase the text, it is important that you teach them how to change sentences from active to passive voice.
Teach Them About Changing The Form Of Words
One of the most important methods used in content paraphrasing is changing the form of words. Changing the form of words refers to swapping nouns with verbs or verbs into adjectives.
This is one of the easiest ways to rewrite content without committing plagiarism. Paraphrasing content in the IELTS test by changing word forms would show that a student has versatile knowledge of the English language.
This would also showcase one's vocabulary and would increase chances of getting better scores on the writing test.
Give Them Sample Paraphrasing Tests
You must know that paraphrasing content with complete accuracy requires a lot of practice. If you want yourself or your students to be experts in paraphrasing, it is best that you take sample tests.
Practicing sample tests would allow students to master this skill and learn from their own mistakes. You can find a huge range of sample paraphrasing text for IELTS students on the web.
You can download these tests and give them to your students for practice. You can also assign them group paraphrasing tasks.
This would further help them accelerate their learning progress by leaps and bounds.
What Are The Steps To Follow To Paraphrasing Text Manually?
Here we have discussed the steps that every writer needs to follow when paraphrasing content:
1.     Read The Original Text Multiple Times
The first step in paraphrasing is scrutinizing the original text. One has to read the original/reference text multiple times to understand what it means.
It is important that you understand the context of the post before you start writing.
2.     Note Down Main Ideas/Key Points
Before paraphrasing text, you have to make sure that you note down all the points that you have to add to your draft. Taking notes is important as it would help you cover all important points in your version.
3.     Write Your Draft Without Peaking
When you are paraphrasing text in your own words, it is important that you don't take sneak peeks from the original source.
If you take help from the original source, there will always be a chance of plagiarism in your content. To avoid plagiarism, you should write content in your own words without peaks.
4.     Replace Synonyms/ Sentence Structure
You have to change words with the most suitable synonyms in your draft. Also, change the sentence structure to create an entirely different version.
5.     Always Check Plagiarism
After you have written your version, it is important that you check your content for plagiarism. You can use online plagiarism checker tools to find any duplications or similarities.
An important point that you need to note is that, when rephrasing content, you have to make sure that you cite the reference sources.
Manual paraphrasing can be troublesome if you are new to this skill. Today if you want to see how to paraphrase content with 100% accuracy, you can take help from the best online paraphrase tool like the ParaphraseTool.ai
How Can Paraphrasetool.Ai Help Ielts Students?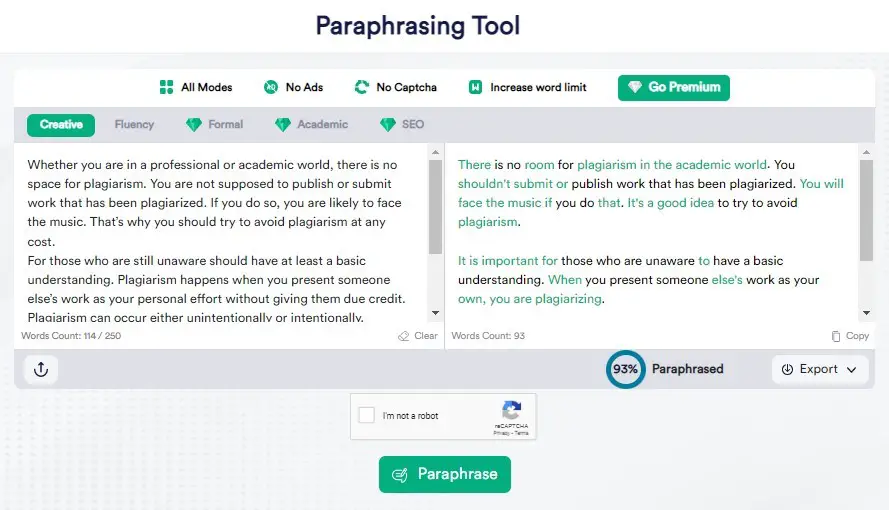 Paraphrasetool.ai is one of the most powerful AI-powered paraphrasing tools that you can find online. This tool can rewrite content in less than seconds in a unique style/tone. You can use this tool and learn how content is paraphrased in the most effective manner.
This online paraphrasing tool offers five different modes. The creative and fluency mode is free to use. The other three modes, including SEO, format, and academic mode, are paid but are definitely affordable.
To paraphrase content with this tool, you have to:
Open the paraphrasetool.ai on your browser
Upload the text that you want to rephrase
Select your desired rewriting mode
Click on the "Paraphrase" button
You can compare the original text with the paraphrased version and learn how the tool has recomposed the text in a unique style and tone.
Because of machine learning algorithms and artificial intelligence, the text generated by this tool is human-like and very much digestible.
End Words
Preparing for the IELTS test can be a difficult task, especially when it comes to the writing part. Having good paraphrasing skills can help you a lot in passing the test, which is why in this post, we have discussed some of the methods that can help students learn how to paraphrase effectively.
Today students can also learn the most professional way of paraphrasing by using the best Ai powered paraphrasing tool.
If you want to teach your students how to pass the IELTS writing test, it is best that you follow this guide and take help from the best tool.