"Learning can be fun" is a cliche common in academic circles. While many try to make it fun, few come close. Among them, language-learning platform Lingopie claims to help people learn languages by watching tv. It sounds too good to be true, doesn't it?
Akin to video streaming services like Netflix, Lingopie offers its subscribers a wide selection of tv shows in eight languages. Users can choose from thousands of entertainment shows and start watching immediately. The videos are accompanied by subtitles where individual words can be clicked to see the translation as well as meaning. Words which are encountered during the viewing of tv shows are saved for review.
Which languages does Lingopie offer?
Lingopie can be used to learn eight languages which are Spanish, French, Italian, German, Portuguese, Japanese, Korean, and Russian.
The shows available in these languages are not language-learning programs per se. Instead, they are popular tv shows from those countries. For example, if you are trying to learn Korean, you will be watching the same tv shows which a person in Korea might watch. In this way, you get a chance to feel the local culture and how the natives use the language rather than simply learning vocabulary or repeating words.
For each of the languages, there are tv shows which could be dramas, reality shows, or documentaries from a curated list of high-quality content. While kids' shows are available in Spanish, learning through listening to songs is an option for Spanish and French.
Can we really learn languages by watching tv?
People spend a fortune taking lessons to actively acquire a new language, however they ignore that we can learn many things passively. For an instance, children become fluent in their mother tongue just by listening to it being spoken around them. In the same token, many become fluent in another language by consuming media content without even actively seeking out to learn anything.
This phenomenon works unconsciously. If you choose to watch tv shows and movies because they are of interest to you, your mind tries to focus on things on the screen and contemplate on their significance. This happens even if the language is foreign and more so. Your brain becomes more active in deciphering the meaning of words spoken with the help of the accompanying video on the screen.
On top of that, tv shows reflect contemporary culture thereby helping to assimilate to local dialect, accent, colloquialisms, and slang. This is because the knowledge of words and grammatical structures alone in the absence of native customs and traditions might lead to an insufficient understanding of meaning. Immersion into the language is the key here.
Moreover, in comparison to being in a classroom setting or memorizing words, the fun activity that is watching popular shows keeps learners engaged and relaxed at the same time.
In this regard, one can use any medium to watch programs in other languages. Youtube can be a viable option to watch content in lots of different languages. But it does not come packed with learning features of Lingopie such as the ability to save words for review and practice, options for private lessons, and flashcards.
Yabla is a direct competitor to Lingopie in this regard although it has a much poorer user interface.
How to use Lingopie?
Once you buy a subscription for Lingopie, it takes you directly to the app dashboard where you can start by selecting a language you intend to learn. A single subscription plan includes content in all eight languages, so you can switch between languages at a whim.
TV catalog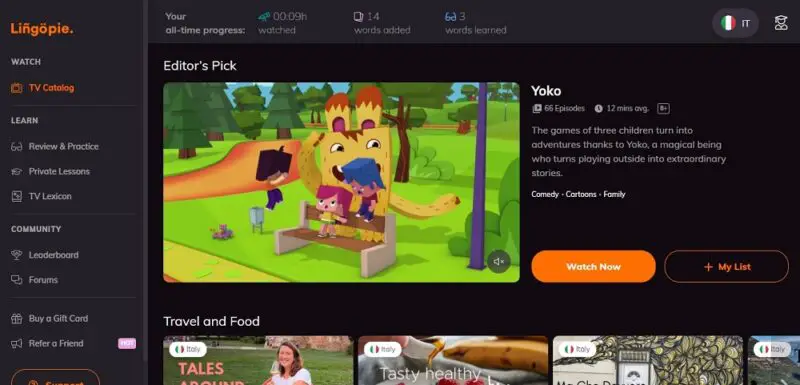 The most prominent feature of Lingopie is of course its tv catalog. The user interface segregates shows into different categories such as New Releases, Top 10, Binge-Worthy Shows, Viewers Choice, and Cartoons. There are even anime from Japan and movies from France, so you would never run out of things to watch.
Review & Practice
As the shows come with subtitles, you can click directly on the words on the screen to see their meaning and pronunciation in real time. These words get added to a collection which can be reviewed later as flashcards. In addition, you can quiz yourself to assess your progress.
TV Lexicon
Lingopie Video Dictionary is another great feature offered by the site. It is possible not only to search for the meaning and pronunciation of a word but also to find a video clip from shows where the word has been used. This tool is available for all languages except Japanese and Korean.
Private lessons
Using Lingopie, it is possible to practice Spanish, French, Italian and Portuguese in one-on-one classes with a private tutor so as to work on speaking fluency. These sessions are 45 minutes long where you can talk about the shows that you have watched. However, these classes are not included in the standard subscription package and rather cost $80 per month.
What is the cost?
Obviously, all these features do not come for free. There are three ways of subscribing to Lingopie.
First, there is the monthly plan for one user. This costs $12 per month and allows access to all sections of the website.
However, this monthly fee can by halved by subscribing to the yearly plan which is priced at $71.88 per year (or $5.99 per month) for a single user. This seems to be a good bargain. I would recommend you subscribe to this yearly plan as it comes with an option of 7 days free trial. You can cancel within the seven days and get fully refunded.
Besides, there is also a Family and Friends package which comes at $99 per year (or $8.25 per month) for four users.
Can I use Lingopie just to watch tv shows?
Although the main use of Lingopie is to learn languages by watching tv, it is nevertheless possible to use it as a video-streaming service. However, in this regard it is severely limited as compared to big players in the game such as Netflix, Amazon Prime Video, Disney+, or Hulu.
I would recommend you NOT to subscribe to Lingopie if watching shows is your only intention. At $12 per month, Lingopie is unreasonably expensive compared to $11.99 per month for a premium Netflix subscription or $14.99 per month for Amazon Prime. The latter options have a wider range of top-notch shows.
Conclusion
I tried Lingopie myself for three months before writing this review. I wanted to see how much of Spanish I can learn in this way. The honest truth is Lingopie alone may not be able to teach you a language from scratch. Lingopie cannot be a substitute for an intensive language-learning class.
Nonetheless, if you are really dedicated and willing to spend hours consuming content voraciously, then you can broaden your repertoire of words and phrases from a language. Dedicated learners may keep on building upon their lexical resource with the help of flashcards, and Lingopie definitely makes it easy to do this.
Lingopie is best for those who are already taking language lessons. Learners can use this platform as a supplement to immerse into the in-context use of a language.
You may also like:
• 10 guaranteed-good movies you haven't seen