PTE Retell Lecture questions are a common type of task that test-takers face in the PTE Academic exam. In this task, you are presented with a short lecture on a given topic, which you must then summarize in your own words. This is the fourth task in the Speaking section of the PTE test and is designed to assess your ability to comprehend and synthesize information, as well as your language skills.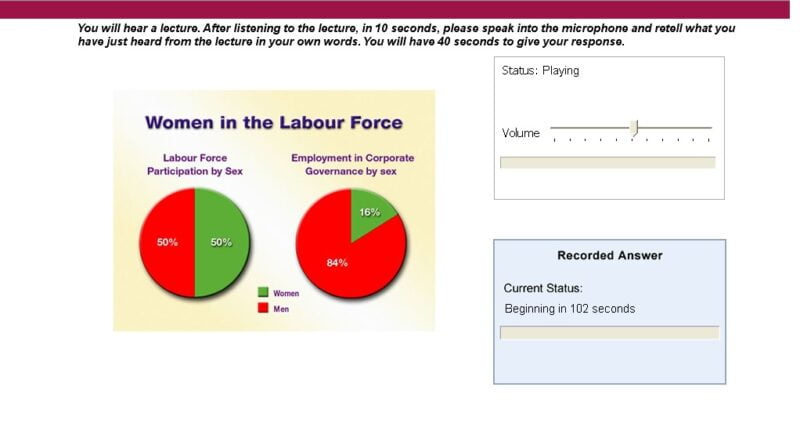 You will get one or two PTE Retell Lecture questions in the test. A short lecture, which is around 90 seconds long, is played for you. The lecture will be on a general academic topic. There may or may not be a picture on the screen.
While listening to the lecture, you may take notes of the main points mentioned. When the lecture is over, you will get 40 seconds to retell the main points mentioned in the lecture.
The audio is played only once.
PTE Retell Lecture Format
There is an easy way to answer Retell Lecture questions in the PTE test. While listening to the audio, write down as many words from the lecture as you can. Don't worry too much about which words you are writing down, just jot them down as you are listening. Try to get between 15 and 30 words.
When the audio is over, use the following format to answer the question.
PTE Retell Lecture Format
The lecture was about [word 1].

The speaker said [word 2], [word 3], and [word 4].

The speaker said [word 5], [word 6], and [word 7].

The speaker said [word 8], [word 9], and [word 10].

The speaker said [word 11], [word 12], and [word 13].

The speaker said [word 14], [word 15], and [word 16].

Overall, the lecture was quite interesting.
In the Retell Lecture format above, replace the parts such as [word 1] and [word 2] with words you wrote down from the lecture. If you have noted fewer words, just say as much as you have. If you have noted more words, you can keep on speaking until the time runs out.
Memorize this script and say it as it is in the exam. Practice saying this within the 40 seconds time limit.
PTE Retell Lecture Sample Answer
You may also like:
How is PTE Retell Lecture marked?
In the Retell Lecture questions of the Speaking section in the PTE test, three things are evaluated. They are Content, Pronunciation, and Oral Fluency.
Content is scored on a scale of 0 to 5. An answer which covers all the relevant aspects of the lecture and their relationships and conclusions gets 5. The more points from the lecture you fail to describe, the lower your score will be.
Pronunciation and Oral Fluency each are assigned a score from 0 to 5, with 5 being native-like use of the language and 0 being unrecognizable or inarticulate English. The speech sounds should be easily comprehensible to common users of the English language, with appropriate stress placed within words as well as at the sentence level. Similarly, there should be a smooth rhythm of speech with appropriate phrasing, and enunciation like a native speaker of English. There should not be repetitions, hesitations, and false starts.
In the overall scheme of things, Retell Lecture accounts for 11.1 out of 90 in Speaking and 9.9 out of 90 in Listening. So, this question carries marks for both Speaking and Listening.
To learn more about the PTE Marking System, click here »
PTE Retell Lecture Tips
Here are some tips to help you prepare for and tackle PTE Retell Lecture questions:
Listen attentively.
It is important to listen carefully to the lecture and pay attention to the main points and supporting details. You should also take note of any examples or statistics mentioned, as these can be useful in summarizing the lecture.
Don't worry about memorizing everything.
You do not need to memorize every detail of the lecture. Instead, focus on understanding the main points and ideas presented. This will help you to construct a coherent and concise summary.
Speak clearly
Make sure to have proper fluency and pronunciation when summarizing the lecture. You get more marks from fluency and pronunciation than content.
Practice, practice, practice.
The more you practice Retell Lecture questions, the better you will become at summarizing information quickly and accurately. You can find plenty of sample questions online or in PTE preparation materials.
See also: