Lingopie presents a fresh approach to language learning through its video-based immersion app. It provides an exceptional method to bypass mundane language courses and lessons, allowing you to fully immerse yourself in local culture and authentic dialects.
Lingopie – the language-learning platform which uses real tv shows and movies instead of plain old lessons – has come a long way since the last time I reviewed it. Now, it boasts a Netflix extension, mobile applications, and group lessons, which have provided keen learners with more avenues to brush up their language skills.
Lingopie is suitable for both beginners and advanced learners. Whether you enjoy simple cartoons, intricate dramas, or fast-paced comedies, you'll find something that resonates with you.
How does Lingopie work?
Lingopie offers tools to learn eight languages which are French, German, Italian, Japanese, Korean, Portuguese, Russian, and Spanish.
Basically, videos are conveniently organized into categories and originate from various networks and independent producers. Clicking on a video leads to a watch page where by default, the transcript is displayed on the right side of the screen, while subtitles appear on the video itself.
Clicking on a word within either the transcript or subtitles triggers a simple English definition. The player also offers buttons to repeat a sentence and adjust playback speed.
Notably, the app provides a range of features dedicated to integrated speaking practice. This includes a button to play a word in isolation. Additionally, users can record their own voice and compare it to the original recording.
After watching a video, users can engage in a brief pop quiz that assesses their comprehension of the vocabulary used.
Lingopie and Netflix
You can inject steroid into your Lingopie experience by integrating it with your Netflix account so that you can master a new language while indulging in your beloved Netflix shows.
This feature can be accessed by downloading the Netflix extension available for Chrome web browser. This seamlessly transforms Netflix content into captivating language learning experience using Netflix.
While enjoying your Netflix content, Lingopie displays dual subtitles simultaneously – one in your native language and another in the language you're learning. Every word, phrase, and colloquialism is clickable for instant translations, expediting your language learning progress.
Lingopie's Group Classes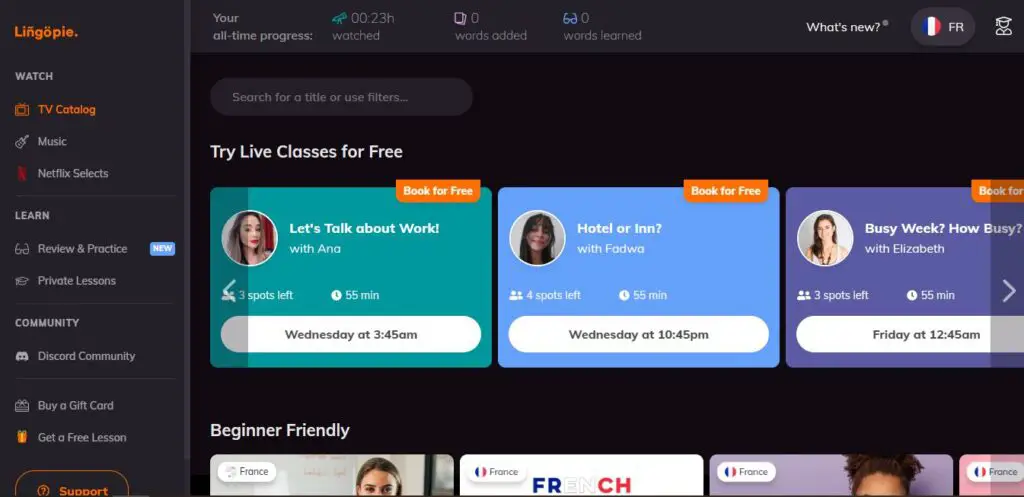 Those who want to go beyond watching movies and tv shows can join group classes offered by Lingopie.
Thus far, Lingopie has launched group classes for Spanish and French with the promise of offering more languages soon. These classes are interactive sessions where different topics like greetings, basic vocabulary for dining at a restaurant, and simple grammar lessons are covered.
To test the waters, Lingopie offers the first class absolutely free, so you can decide for yourself whether these group classes are for you.
For those looking for private lessons, Lingopie has been offering those for a while. Anyone can book a private lesson with verified teachers who have lessons for all levels. Each teacher has their own hourly rate depending on experience and level, so you can choose the best match for yourself.
Lingopie for Learning English
Along with learning foreign languages, one can use Lingopie for learning English as well. There is a vast catalog of shows in the English language from countries such as the USA, the UK, Canada, and Australia which can be really helpful if you want to improve your English. The shows in English have German, Spanish, French, and Portuguese subtitles.
Additionally, Lingopie has a great blog where learners can utilize its vast resources to expedite acquiring a language.

Why you should choose Lingopie
Lingopie offers an extensive collection of movies and tv shows. In fact, there is more content than you can ever watch, so you will never run out of videos. It is ideal for individuals passionate about international films, enabling them to acquire the language.
Lingopie caters to learners at both intermediate and advanced levels. Plus, it has a user-friendly interface. Anyone who has used Netflix will quickly be familiar with the way Lingopie works.
A noteworthy feature of Lingopie is the ability to loop, speak sentences, adjust playback speed, and access subtitles in the target language. This will let you decide your own pace of learning. You can monitor your progress and witness your improvement over time. Lingopie offers personalized feedback and recommendations based on your performance.
Lingopie also offer a language learning experience with Lingopie Kids, which is a dedicated platform for children to enjoy their favorite shows while simultaneously learning a new language.
The downsides of Lingopie
The biggest stumbling block for Lingopie is its pricing. At $12 per month, Lingopie is quite expensive. Youtube offers numerous free movies and TV shows, although the availability of desired or accurate subtitles may vary.
I also found that languages with larger resources typically provide a wider selection of movies and TV series compared to less common languages. So, you will find more content if you trying to learn French or Spanish and relatively less if you are learning Portugese or Japanese.
What's more, those who aspire to improve their writing skills or seek language learning tools specifically for writing may find limited features in this app, aside from the flashcards.
The verdict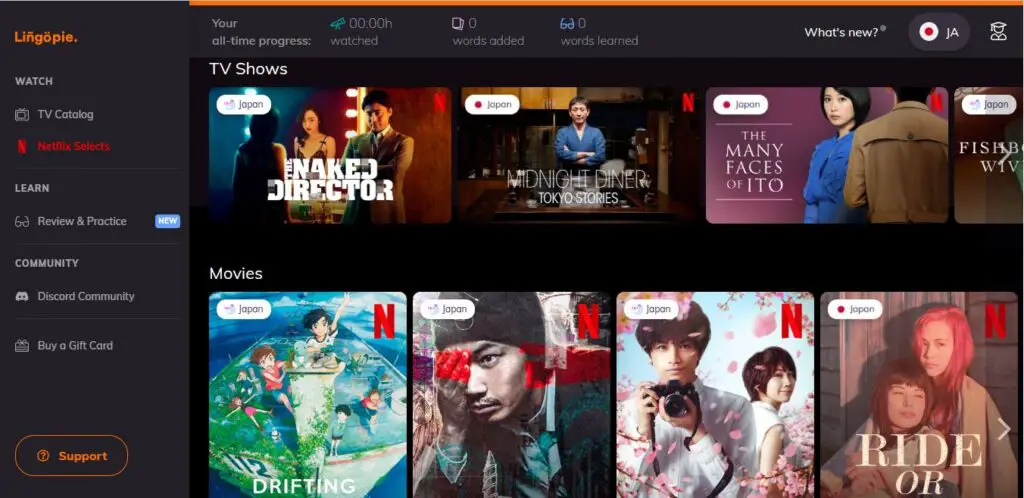 It is obvious that how words and phrases you heard in movies and tv shows tend to stick in your memory. You can easily recall the manner of speaking, the context, and the meaning through visual representation. Well, that's exactly what Lingopie offers.
While watching videos, movies, or TV shows, if you come across unfamiliar words, simply hold onto the word from the subtitles, and it automatically generates a flashcard featuring the scene. These flashcards serve as a tool not only for remembering the word but also for recalling the context and even the tone used by native speakers.
Lingopie is best for language learners who prefer to learn a new language through video content, regardless of their proficiency level. The extensive Lingopie Library includes a wide selection of children's movies and shows. Additionally, adults can enjoy engaging podcasts and music videos.
You can download and install the Lingopie app from either the App Store (iOS) or Google Play (Android). Alternatively, you can access the Lingopie website on your computer.